What people are saying about Garbage-eez®...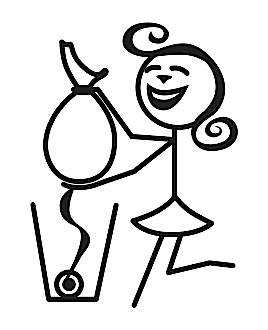 "I was out shopping to buy some more garbage bags, when I stumbled upon Garbage-eez. I figured I would give it a try. The product was unique and the concept is brilliant.
Thanks to you, I no longer have to find space on my shelf to store garbage bags. My favorite thing about Garbage-eez is it keeps the other bags clean, and makes the whole replacement process simple. It's a time saver. I look forward to purchasing more."
Rich C.
My very talented innovative friend, Stacey Lokey, created "Garbage-eez", a clean and easy way to replace your garbage bags. Pull one from the roll kept neatly at the bottom of your pail - why didn't I think of this?! I've been using them for the last year, and the product is fantastic! Like many household products these days, you can easily order through the product website. I wish Stop & Shop had it on the shelves. I'm spoiled - I get refills directly from the company owner!!!
Liz F. - L.I.
love these bags! They do not leak and they are strong. I have to admit I sometimes over-stuff them. Haven't had one rip yet. The convenience of having a new bag there in the can is just genius!
Linda B. - CT
I have been using your product for about a month now and I really like it. You gave David a sample when he was there and I was a bit skeptical if it really would work that easily and if the bags would stand up. They did. I started emptying the garbage when it was not quite full as normal and it held up well. So then we decided to let it go to the normal amount of trash and your bags tested true!! They are good quality and separated apart easily as your video showed. Now we need to get them into the grocery stores and make them more accessible to everyone. Great job and Great product.
David and Victoria - CT
"Not only has this product been a pleasure to use in my own home I have noticed my customers who run group homes for the handicapped really enjoy the simplicity and its high quality. This is an item I can truly recommend!"
Anthony L. - Newtown, CT
I've never seen anything like it before...it's so easy! I love using Garbage-eez®! It's genius!!!
Winnie - Shelton, CT
I'm so tired of bending down under the sink looking for garbage bags. Yay! I found a solution! Never again will I need to bend and look for a garbage bag. You have to try Garbage-eez®! You'll love it! It's the best!!!
Paula C. - Newtown, CT
Thank you for creating Garbage-eez® for all of us busy moms! I no longer dread taking out the trash since I started using Garbage-eez®. This product has simplified the process by making it quick and easy to replace the garbage pail liner. I can simply pull out the filled bag and roll out a new one in seconds. Having the dispenser within the garbage pail is genius! Fast, 'eez', and one less item to store in my pantry closet.
Dona - Newtown, CT
I love the idea of having my garbage bags in one place...at the bottom of my garbage can. Garbage-eez® is a wonderful, easy and convenient product.
Pattie C. - Seymour, CT
I have been using Garbage-eez® the past few months. It is a wonderful product!!! It is so convenient to have the dispenser with the bags in them at the bottom of the trashcan. Instead of going crazy looking for bags, they are right there! It's very convenient. In a time when convenience is a necessity with busy schedules, something as simple as having trash bags readily available is a must. I couldn't ask for a better product!
Elise Jerabek - Easley, SC
This product Garbage-eez® is very helpful. I don't have any trouble taking out the trash. It really made it easier. Love it!
Rosey - Shelton, CT
We love Garbage-eez®!!!
Nuala - Westport, CT
I cannot say enough great things about Garbage-eez®. First and foremost it is simple to use. You stick it to the bottom of your trash can, open packaging, take the bag and use it like any other garbage bag. The best part is when your garbage bag is full, you pull-up, tie the top, and tear on the perforation with another bag in its place. The bag is thick and durable. But another benefit I noticed was the garbage doesn't smell or leak. Currently, there is the kitchen size but I hope to see small sizes to include in my bathrooms as well.
Sincerely,
Wendy - San Raphael, CA
12-16 gal bags? What took so long?? This is a stroke of genius for sure. 13 gal bags did not fit my pail and I've been using the 30 gal, which were way too big. Thanks to this product Garbage-eez®, I finally have a bag that fits and not having to go dig out a new bag is awesome.
Bill R. - Shelton, CT
I love, love, love it! You know, for someone who doesn't regularly take out the garbage this may not look like a big deal. They should think of the person in their house who does do it and buy them one.
Marlene P. - Naugatuck, CT
This is a marriage saver. The only time my spouse and I have words is when there is no bag replaced in the trash and the next person has to do it. Garbage-eez® has eliminated this problem!!! Thank you!
Shari A. - Oxford, CT
We are seniors and my husband has a medical condition that has left him unsteady on his feet. With your wonderful product he is able to perform the task of taking out the garbage with minimal steps to perform this task. It gives him a feeling of self-worth and eases my mind that he will not experience another fall by having everything at his fingertips. Love the product!
Julie S. - Shelton, CT
"We tried Garbage-eez® for the first time this week and thought it was the greatest. I mean…changing garbage bags is one of life's unpleasant necessities, and with Garbage-eez® it's actually no longer something we dread. It's easy, as the name implies, and it's going to change the way people think about having to change those bags forever. We're converts, so give it a try yourself!"
-Mickey & Laura - NC
"We love Garbage-eez®"! We found this product to be easy and convenient. It saves us so much time from going from one room to another searching for garbage bags. It's a cleaner, quicker and easier way for us to remove our garbage. The clamshell dispenser is sturdy and it doesn't crush. Also, we love that you can recycle the dispenser when empty.
-Kelly & Mike - Naugatuck, CT
This product was installed in the waste basket where I work. I find the convenience of the ingenious perpetual bag replacement amazing. The trash can always has a clean liner/bag every time you empty the trash. You avoid the mess that can happen when you forget to put in a new trash liner! I must say that the roll of fresh bags within its container stays sturdily attached to the bottom of your trash can. Fabulous product! Hope you consider making them for all trash containers, big and small!
Linda - CT