How We Got Started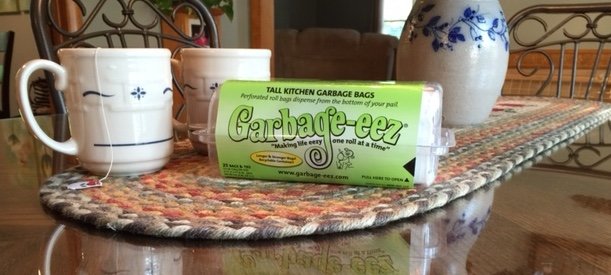 Approximately 19 years ago, over a cup of tea, we had a wonderful idea for a useful product. Off to a 24-hour store, we created our first prototype. The product evolved over the years and there was a long period of time that we were at a standstill, searching for the proper packaging. Stopped, but not forgotten, we picked up again about 4 years ago.
Packaging technology had taken strides and we stumbled across the perfect vehicle to house our product. We came up with the unique design and got the ball rolling! The name of our product has been
Garbage-eez®
from the beginning and we just love it! Our biggest supporters have always been our family and friends! We would also like to thank some really great people whom we could not have come this far without.
Matt Wutka - Owner/Merchandising Partners:
Matt has helped us tremendously with design suggestions and through him we have developed and purchased our product packaging. Believing in our product wholeheartedly, he has gone above and beyond to help us be where we are today.
www.merchandisingpartnersllc.com
Carson Fincham - Patent Attorney/Fincham & Downs, LLC:
Carson is our Patent Attorney. He cannot wait to use our innovative product in his home. When we introduced our prototype to Carson, he was onboard immediately and ready to help us begin our journey. He is truly a brilliant leader and has guided us through the patent process.
www.finchamdowns.com
Creative Director -
He has worked diligently to create the beautiful logo for our label. He's purely a genius! You will have to ask us personally who he is!
Linda F. Bates CPA LLC-
She has been extremely helpful and efficient when filing our taxes. We are thankful to have such a knowledgeable and professional accountant.
Kimberly Caplik -
Last but not least, a big "thank you" to the creator of our iconic
"GO-GO GARBAGE GIRL"
! It was love at first sight! Our "
GO-GO GARBAGE GIRL"
totally conveys the wonderful concept of our product.
Thank you everyone for your continued support!
Love,
Carol and Stacey